Drivers in search of a fun, affordable, rear-wheel-drive machine have been hard done by in recent years. Sure, you could go and buy something like a Caterham Seven, but we can understand if you'd like your thrills to come with extravagances such as a secure roof. Or a working heater. 
All is not lost, though, and the Toyota GR86 is proof. We don't know what's on the menu at Toyota's Gazoo Racing canteen, but whatever they're feeding those engineers, the results are certainly exciting; the GR Supra, GR Yaris and US-market GR Corolla are all great, but the GR86 might be the most exciting of all.
It deserves some stiff competition, which comes here in the shape of the BMW 230i. According to its maker, only nine per cent of buyers will go for this powertrain, but we have a feeling that it might strike the perfect balance for the firm's latest coupe.
Toyota GR86
| | |
| --- | --- |
| Model: | Toyota GR86 |
| Price: | £29,995 |
| Engine: | 2.4-litre 4cyl, 231bhp |
| 0-62mph: | 6.3 seconds |
| Test economy: | 31.3mpg/6.9mpl |
| CO2: | 200g/km |
| Annual road tax: | £165 |
The GR86 range is simple – there's a choice of a manual or an automatic gearbox (the latter is a £2,090 option) and one of six colours. The Ice Silver paint of this test car is £645 extra, which added to a base price of £29,995, brings the total to £30,640.
Design & engineering
That list price really jumps out as being quite cheap for a modern performance car. Once you look through the specs, it seems almost too good to be true. 
Toyota started the development of the GR86 with its predecessor, the GT86. The R rides on the same basic underpinnings, but almost every component has received a fairly extensive overhaul.
The structure itself has been made stronger – Toyota claims a 50 per cent increase in rigidity when compared with the GT86 – yet despite a modest increase in size to improve both refinement and crash safety, the 1,267kg kerbweight is largely the same as before. A focus on slimming down individual parts can be thanked for that. 
The bonnet, roof and front wings are all made of aluminium, while the seats, exhaust system and even the propshafts are lighter than those on the GR86's predecessor. The centre of mass is 1.6mm lower, and the 53:47 weight bias is 0.05 per cent further back. Even the engine has gone on a diet; resin rocker covers, hollow valves and thinner cylinder liners play a part in changing that front/rear balance. 
The engine isn't just lighter, though. The GT86's 2.0-litre flat four has been bored out to 2.4 litres. Its 231bhp and 250Nm of torque are sent to the rear wheels through a six-speed manual gearbox and Torsen limited-slip differential. You get MacPherson-strut suspension at the front, and a double-wishbone arrangement at the rear corners.
It's inside where that £29,995 staging price makes itself felt. The dashboard design isn't much to look at, with a fairly simple layout, and the plastics feel a little hard and scratchy, too. However, all the basics that matter to the actual process of driving are brilliant. The driving position is spot on, the seat and wheel have plenty of adjustment (although the chance to move the seat belt height would be a plus) and the gearlever is positioned close to the wheel, so it's a quick grab away. Visibility is okay by coupe standards, too. It all builds towards excitement. 
Driving
Prod the GR86's starter button, and the engine wakes into a slightly busy, almost gravelly idle. It's not the most tuneful unit at any revs, but immediately the sensitivity of the throttle is obvious – rev-matching gearchanges need just the gentlest of taps on the right pedal. It's a feeling of delicacy which, even a few yards along a road, can be felt through the steering and the brakes, too. The gearshift is very precise, but has a decent weight to it. 
At low speeds, the bumps and ridges in the road can be felt through the taut suspension and a steering rack that's beautifully weighted and transmits lots of information through your fingertips. Despite this, the GR86 never feels unrefined, nor is the ride harsh; those coming to the coupe from a hot hatchback – even Toyota's own GR Yaris – will find it to be a much more compliant car to live with every day. 
Find the right road, and the GR86 will put a bigger grin on your face than any current hot hatch, too. In an age of 400bhp five-doors, the GR emphatically proves that making the most of a more modest power output is far more satisfying. The non-turbocharged engine needs revs to work at its best, but it relishes in being thrashed. Closely stacked gear ratios mean that you can explore the full rev range on the road without troubling the national speed limit, too. It's by no means slow, though – a 0-62mph time of 6.3 seconds is only 0.4 seconds shy of the BMW's – and the fact that you have to work it to achieve that performance makes it all the more satisfying. 
It's the chassis that's the clear highlight, though. The purity of that steering is more pronounced as you increase your pace, allowing the driver to position the GR86 on the road perfectly. Body roll is minimal, yet you can still use the weight transfer of the car to adjust its attitude through turns; and whether you choose to do that with the steering, brakes or throttle – or a combination of the three – it's confidence-inspiring and so rewarding to get right. Few new models will help you understand and enjoy the nuances of car control so comprehensively. In short, it's one of the finest-handling cars you can buy today – at any price.
Practicality
Most GR86 buyers will be more concerned about the drive than the space, and that's fortunate. The boot is shallow with a small opening, and the 226-litre volume is just about enough for a long weekend away for two. There are technically four seats, but the rears are next to useless; it's best to just fold them so you've got a two-seater with a decent amount of storage.
Ownership
If you're happy to maintain a full Toyota service history, franchised UK dealers are willing to back up their cars' reputation for strong reliability by offering a 10-year warranty. An extra 12 months' cover is added each time it's taken in for routine maintenance. In contrast, the BMW comes with three years of cover from new. 
Running costs
With the GR86 in short supply and high demand, it's very likely that it'll be excellent at holding – or even exceeding – its original value in the short term. After three years, it's expected to retain almost 61 per cent of its retail price. 
With a figure of nearly 55 per cent, the BMW is strong, too, but its higher starting price means that over the same three-year period it'll lose £18,326 compared with just £11,719 for the GR86.
Testers' notes: "The Race Mode button shows Toyota's confidence in its work. There's no adjustment to steering or throttle settings; it just deactivates the stability control."
BMW 320i
| | |
| --- | --- |
| Model: | BMW 230i Coupe M Sport |
| Price: | £40,420 |
| Engine: | 2.0-litre 4cyl turbo, 242bhp |
| 0-62mph: | 5.9 seconds |
| Test economy: | 32.5mpg/7.1mpl |
| CO2: | 151g/km |
| Annual road tax: | £520 |
Prices for the BMW 230i are much higher than its rival here. Before options, the M Sport trim costs £42,420. This test car adds £7,495 of options on top of that, including the M Sport Pro pack (£2,500) with M Sport brakes, 19-inch alloys, a small spoiler, black trim highlights and a Harman Kardon sound system. The Comfort Pack (£1,250) adds a heated steering wheel and electrically adjustable seats, while the Tech Plus Pack (£1,900) includes wireless smartphone charging, a 3D parking assistant and a head-up display. 
Design & engineering
Much like the other models in the 2 Series Coupe line-up, the 230i makes use of BMW's Cluster Architecture platform, which are the same underpinnings used by the larger 4 Series. With that comes all the tech, powertrain and structural benefits of the bigger car, but it also brings weight; at 1,600kg, the 230i is more than 300kg heavier than its rival here. However, it's also a useful 165kg lighter than the six-cylinder M240i xDrive. 
While the 230i has more weight to lug around than the GR86, it compensates with more power, too. The 242bhp peak is a modest 11bhp up on the Toyota, but that power is produced all the way from 4,500-6,500rpm, whereas peak output doesn't arrive until 7,000rpm in the GR. 
Even more significant is the torque. The BMW's 2.0-litre unit is boosted by a turbocharger, so the engine's 400Nm maximum arrives from just 1,600rpm and continues right the way through to 4,000rpm. The Toyota is significantly down on that, and you need to wind the engine up to 3,700rpm before it reaches its 250Nm peak.
The BMW goes some way to justifying its higher price with a much more luxurious cabin. The materials have a much more expensive appearance, its wide centre console feels more sturdy and the tech on offer is far more advanced. 
Ambient lighting in the doors adds to the feeling of expense, but like the Toyota, the BMW has a great driving position. It does feel more substantial – the bonnet line is higher, meaning that the extremities of the car are harder to judge, and this hints at the way this car compares with the Toyota out on the road. 
Driving
In isolation, the 2 Series is a cracking car to drive. The chassis is very capable, with a feeling that all of its mass is centred around your hips – much like the Toyota. 
However, a car that's as brilliant to drive quickly as the GR86 is reveals the BMW's flaws – small though they are. Key among these is the steering. Beside the superb precision of the Toyota, the BMW's rack doesn't offer the same confidence, nor does it load up as naturally when you apply lock. The result is that you'll often have more than one go at turning into a corner as you work out what response you'll get. 
The feedback is dulled by the needlessly thick and slightly soft steering wheel rim that BMW continues to persist with. In other words, you turn into a corner in the 230i trusting that it'll grip, while the Toyota confirms as much as you apply lock, thanks to the constant feedback. 
While that lesser 220i will be the far more popular option than the 230i in the 2 Series range, those buyers will be missing out. 
Ring its neck, and the lesser engine feels a little insipid; the extra shove in this more potent version can be felt throughout the rev range. It's enough to make the difference between a coupe that's built for appearance and one that could actually be seen as a performance car. 
If there's one slight downside, it's that the four-cylinder unit doesn't make a particularly soulful sound. It's a deeper, more bassy tone than the Toyota. Refinement is excellent, though. Head for the motorway and the gearbox shuffles up to eighth and the revs drop right down. Coupled with excellent stability and a compliant ride, this makes the 2 Series a fabulous long-distance cruiser. 
Practicality
Despite being a coupe, the 2 Series boasts genuinely usable back seats. Even adults will be able to fit in the back without too much complaint, while the seats themselves are comfortable and supportive. 
There's space for all their luggage, too. A 390-litre boot is excellent, and the opening is wide enough to make it not too much of a hardship to load large suitcases inside.  Large door pockets, a generous central bin, a couple of cup-holders and a covered cubby to hold a smartphone or two all contribute to a car that hasn't sacrificed any everyday usability in its quest for driving fun. 
Ownership
In what could seem like a slight letdown by BMW's high standards, the 2 Series only achieved a four-star Euro NCAP rating when it was tested in 2022. 
It was marked down in the vulnerable road users category, where NCAP noted that the Autonomous Emergency Braking system could be better at detecting cyclists. An active bonnet is standard on all 2 Series models. 
Running costs
If these cars are driven with enthusiasm, then there isn't much to separate them in terms of fuel consumption, with both dipping into the high-20s mpg. We managed an overall return of 32.5mpg for the BMW and 31.3mpg for the Toyota. 
However, it's worth noting that you'll rarely get anything better than that in the GR86 – even on a motorway cruise. Cover the same long distances in the BMW, however, and the long gearing will help fuel economy easily climb into the forties.
Testers' notes: "The 2 Series bucks the trend of dull modern-car colours. Our test car's Portimao Blue looks great, and there's an optional 'Thundernight' purple too."
Results
First place: Toyota GR86
We crowned the Toyota GR86 our favourite sports car of 2022, and this contest proves exactly why. The chassis is almost flawless; it's brilliant to drive yet not difficult to live with in the slightest. It's more than quick enough, it's backed up by a great warranty and rarity is guaranteed. Then there's the price; all of this for under 30 grand makes it an absolute bargain.
Second place: BMW 230i
In most of the areas which don't contribute to driving thrills – rear-seat space, boot capacity and infotainment tech – the BMW has a clear advantage over the Toyota. Against most competition, it would hold its own from behind the wheel, too. However, against a car so brilliant to drive, the 230i can't quite keep up. It's also much more expensive to buy in the first place.
Other options for similar money
New: Mazda MX-5 RF 2.0 Exclusive Line
Price: £32,360 
Engine: 2.0-litre 4cyl, 181bhp
The MX-5 is built on the same principles as the GR86, featuring modest power, a low kerbweight, rear-wheel drive, and only the equipment you need. The targa-style RF adds coupe-like security thanks to its retractable hard-top, too.
Used: BMW M2 Competition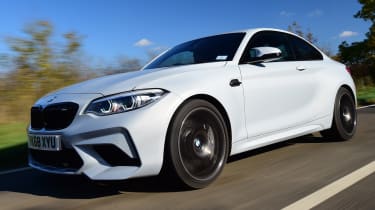 Price: £40k (2019/19) 
Engine: 3.0l 6cyl, 404bhp
For similar money to a lightly-optioned 230i, it's possible to get your hands on the pinnacle of the previous-generation 2 Series. The M2 is a fabulous machine, although even this brawny coupe can't match the precision of the GR86.
Figures
| | | |
| --- | --- | --- |
|   | Toyota GR86 | BMW 230i |
| On the road price/total as tested | £29,995/£30,640 | £40,420/£47,915 |
| Residual value (after 3yrs/36,000) | £18,276/60.9% | £22,094/54.7% |
| Depreciation | £11,719 | £18,326 |
| Annual tax liability std/higher rate | £2,110/£4,221 | £2,785/£5,569 |
| Annual fuel cost (12k/20k miles) | £2,789/£4,648 | £2,686/£4,476 |
| Insurance group/quote/VED | 50/£572/£165 | 33/£607/£520 |
| Cost of 1st/2nd/3rd service | £315/£470/£315 | £694 (3 years) |
|   |   |   |
| Length/wheelbase | 4,265/2,575mm | 4,537/2,741mm |
| Height/width | 1,310/1,775mm | 1,390/1,838mm |
| Engine | 4cyl flat four/2,387cc | 4cyl in-line/1,998cc |
| Peak power/revs | 231/7,000 bhp/rpm | 242/4,500 bhp/rpm |
| Peak torque/revs | 250/3,700 Nm/rpm | 400/1,600 Nm/rpm |
| Transmission | 6-spd man/rwd | 8-spd auto/rwd |
| Fuel tank capacity/spare wheel | 50 litres/repair kit | 52 litres/repair kit |
| Boot capacity | 226 litres | 390 litres |
| Kerbweight | 1,276kg | 1,600kg |
| Turning circle | 11.4 metres | 11.1 metres |
| Basic warranty (miles)/recovery | 3yrs (60,000)/1yr | 3yrs (60,000)/2yrs |
| Driver Power manufacturer/dealer | 10th/6th | 16th/15th |
| NCAP: Adult/child/ped./assist/stars | N/A | 82/81/67/64/4 ('22) |
|   |   |   |
| 0-62mph/top speed | 6.3 secs/140mph | 5.9 secs/155mph |
| Test econ. (mpg/mpl)/range | 31.3/6.9/344 miles | 32.5/7.1/372 miles |
| WLTP combined | 32.1mpg | 42.8mpg |
| WLTP combined | 7.1mpl | 9.4mpl |
| Claimed CO2/tax bracket | 200g/km/37% | 151g/km/35% |
|   |   |   |
| Airbags/Isofix/park sensors/camera | Seven/yes/yes/yes | Six/yes/yes/£1,250* |
| Auto box/lane keep/blindspot/AEB | £2,090/no/no/yes | Yes/yes/yes/yes |
| Climate control/cruise control | Yes/yes | Yes/yes |
| Leather/heated seats | No/yes | £1,150/yes |
| Metallic paint/LED lights | £645/yes | £595/yes |
| Keyless entry & go/powered tailgate | Yes/no | Yes/no |
| Sat-nav/digital dashboard | No/yes | Yes/yes |
| DAB radio/connected services | Yes/yes | Yes/yes |
| Wireless charge/CarPlay/Android Auto | No/yes/yes | £1,250*/yes/yes |
Denial of responsibility!
My droll is an automatic aggregator of the all world's media. In each content, the hyperlink to the primary source is specified. All trademarks belong to their rightful owners, all materials to their authors. If you are the owner of the content and do not want us to publish your materials, please contact us by email – 
[email protected]
. The content will be deleted within 24 hours.