23 November 2022
by Christopher Carey
Taking road space from motorists can be politically risky, but in Milan – one of Europe's most congested cities – it's starting to pay off.
In 2018, the municipality launched its Piazze Aperte 'Open Squares' initiative, using paint and planters, benches and ping-pong tables to reclaim public space for people to enjoy.
"It all started in Dergano," said Milan's Mayor Giuseppe Sala.
"Its historical piazza sat lifeless, merely a sea of empty asphalt and parked cars – [but] this resurgent neighbourhood [has] been reborn."
The project was carried out in collaboration with Milan's Mobility and Environment Agency (AMAT), Bloomberg Associates, the National Association of City Transportation Official (NACTO) and the Global Designing Cities Initiative.
The temporary nature of the interventions makes it possible for cities to act quickly and test solutions that can be reversed if needed.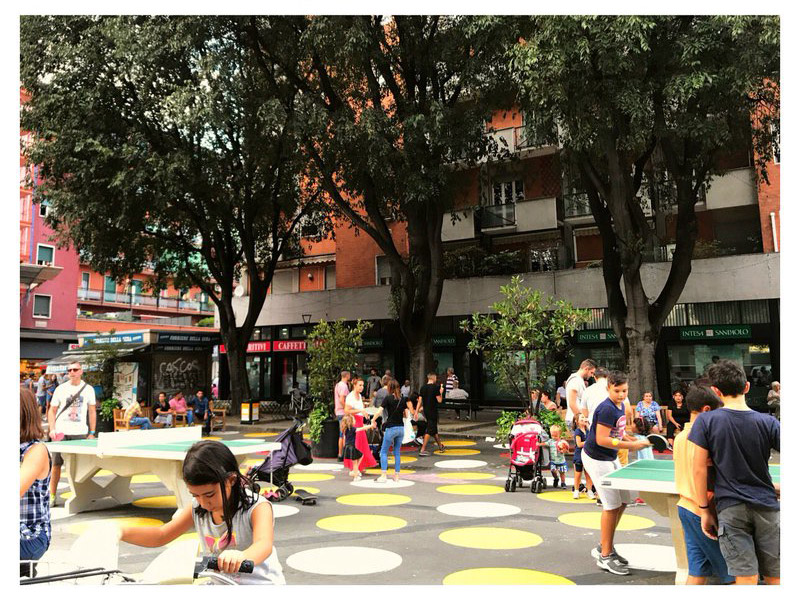 During the pandemic, the programme was accelerated, with 38 pop-up community areas established.
When coupled with the city's Strade Aperte "Open Streets" scheme – which created 68 kilometres of pop-up protected cycling infrastructure – the changing landscape is clear to see.
But it hasn't all been plain sailing – getting public buy-in has been crucial.
Win-win
"The big challenge is to create a win-win solution for the public sector and citizens," Paolo Campus, Mobility Expert, AMAT Milan, told Cities Today on the sidelines of the Smart City Expo World Congress in Barcelona last week.
"We had complaints from residents that there will be no places for cars, and from shopkeepers who were afraid of losing customers, so it's important for us to be transparent and show people what benefits can be generated from this.
"In principle, every new project will creates some concern, but little by little, things change.
"When we started to pedestrianise one central street in Milan, the shopkeepers put up mental barricades – they were really against it.
"But little by little they accepted the rules, and now they would not go back [to how the streets were].
"Initial resistance is quite normal but after they see they can keep, or in most cases increase their profits, their attitude changes."
The changes have also proved to be politically astute, with Mayor Sala re-elected last year by a wide margin.
Bridging the gap
Besides creating more space for people, the city has also embarked on an ambitious plan to boost cycling.
In November 2021, the Metropolitan Council adopted a plan to install 750 kilometres of cycle paths by 2035, connecting the entire city and its surroundings.
With a budget of €250 million (US$282 million), the Cambio plan will consist of four ring roads, four greenways, and 16 radiating lines.
When completed, the network will exceed the 680 kilometres of cycle paths planned by Paris – currently one of Europe's largest bicycle infrastructure projects.
"The aim is to bridge the gap," said Milan Metropolitan Council's Delegate Councillor for Mobility, Beatrice Uguccioni.
"This will lead to less emissions and traffic, but also more road safety, as cyclists and motorists will not have to share the same road space."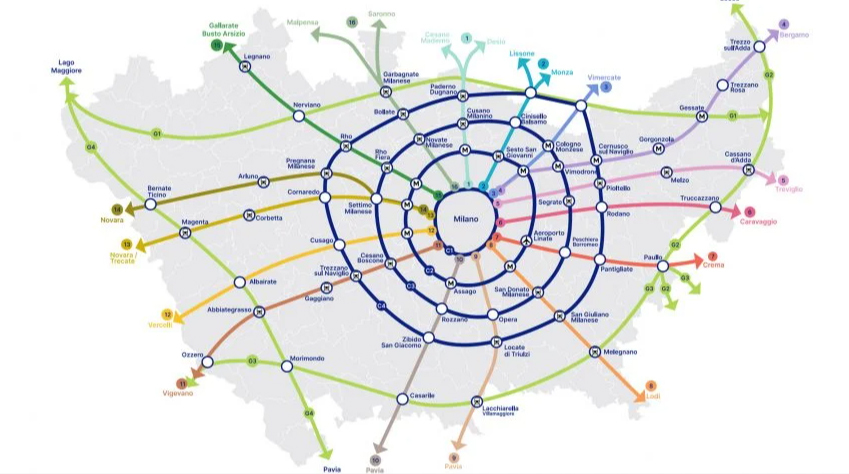 The city wants cycling to become the primary mode of transport for at least 20 percent of its residents by 2035, and will seek to ensure that 80 percent of homes are within one kilometre of a fully protected cycle route.
Bike paths will also feature state-of-the-art infrastructure, including low-impact motion-sensor lighting, digital displays, and a network of fibre optic cables, as well as dedicated bike parking stations.
Through the projects, Milan's ultimate goal is to move towards more sustainable and holistic infrastructure and become more liveable.
"Imagine being able to move around the whole metropolitan area on a bicycle," said Uguccioni.
"To reach cinemas, schools, health centres and meeting places on innovative routes and to do so in complete safety."
Image: City of Milan
Denial of responsibility!
My droll is an automatic aggregator of the all world's media. In each content, the hyperlink to the primary source is specified. All trademarks belong to their rightful owners, all materials to their authors. If you are the owner of the content and do not want us to publish your materials, please contact us by email – 
[email protected]
. The content will be deleted within 24 hours.