21 September 2022
by Christopher Carey
Pilot programmes testing autonomous delivery robots in four US cities and counties have revealed that the design and upkeep of streets as well as a lack of technological integration may hold back bigger deployments.
Four pilots launched last year, supported by a US$5.25 million grant from the Knight Foundation and coordinated by the Urbanism Next Center at the University of Oregon, tested the devices in four locations – Pittsburgh, Miami-Dade County, Detroit and San Jose.
In a report released earlier this month, the Center found that out of 3,000 completed trips there were no reported pedestrian safety incidents, and when robots struggled with delivery it was often due to overgrown trees and blocked or broken pavements.
"Autonomous technology offers tremendous opportunity for progress, but in order to realise its full potential, we must increase testing and pursue intentional strategies to address real community needs," said Lilian Coral, Knight Foundation's Director of National Strategy and Technology Innovation.
The four pilots were initially intended to test the impact of passenger robotaxis, but this was later adjusted to cover delivery robots "due to both the COVID-19 pandemic and changes in the AV market".
Partnering with tech firm Kiwibot, the four authorities tested different use cases on streets and explored ways to engage the community in decision-making.
Each pilot differed, but they shared three common objectives: to learn about the technology, educate the public, and collaborate with private businesses to refine robot deliveries.
San Jose
San Jose was the only cohort community that Kiwibot had operated in prior to the start of its pilot in June 2021 (for approximately six months in 2020).
Because of this, routes had already been mapped in parts of Downtown San Jose and the company had established a relationship with a local business – the Paper Moon Cafe – for the delivery of food using the bots.
The cafe was the first use case piloted, with three others (an urban farm, a pop-up community hub and a local mall) later added before the pilot finished in December 2021.
Reflecting on the project, Sarah Abroff, San Jose's Special Projects Lead for Emerging Mobility, told Cities Today that delivery bot technology was "still in its early stages, with a lot to still work out."
"In interviews and casual surveys with community members, we found that for the most part, residents were open to having delivery robots using the sidewalks," she said.
"That said, there were some people who expressed skepticism related to fear of job loss as well as surveillance.
"We were not able to find an obvious use case where this technology was able to benefit the community or local businesses."
While the city currently has no plans to extend or launch new trials, it says it remains open to partnering with Kiwibot or other robot delivery companies on other projects.
"There is a long way to go with developing delivery robots and much more to explore – we're open to continuing piloting this kind of technology in the future," Abroff added.
Pittsburgh
Starting in late June 2021, Pittsburgh's pilot included three use cases providing delivery services to local residents: prepared meals from a food truck; personal and household items from a pharmacy (excluding prescription or over-the-counter medication); and children's books from Carnegie Library of Pittsburgh.
Between pavement conditions, snow and low light conditions, the city reported that the testing was "fairly challenging".
"Our main findings for the [robots] were that they would probably do better in a denser environment than what Pittsburgh offers," Chase Klingensmith, Autonomous Vehicles Policy Analyst, Pittsburgh Department of Mobility and Infrastructure, told Cities Today.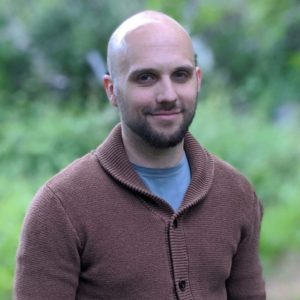 "Based on our experience, environments like college campuses, where things are fairly close together and sidewalk infrastructure is well-maintained, seem to be environments where the [robots] would do well."
Besides the physical challenges, the city also encountered issues with the technology used.
"Additionally there were problems on the back-end with digital infrastructure," Klingensmith added.
"While some of our partners were eager to participate, they were sometimes reliant on paper records or systems that didn't integrate well with the platform the Kiwibots used to handle transactions.
"A lack of integration meant that in order to receive a delivery from a Kiwibot [the partner] would have to jump through a prohibitive number of hoops, in one case needing to copy the URL manually from a graphic promoting delivery since a link wasn't embedded in the post advertising the service.
"That being said, the pilot showed that there was more value in just mapping sidewalk conditions, so while some things didn't work out as planned or as well in other environments there were still new applications found."
Community engagement
In Detroit and Miami-Dade County, the trials were run in conjunction with other mobility projects.
Miami-Dade County (MDC) partnered with Ford City:One and the non profit Urban Health Partnership (UHP) as part of a separate effort focused on identifying mobility challenges faced by its residents.
UHP was responsible for developing a network of community liaisons (CLs) around Miami-Dade to support the work of MDC and Ford City:One and conduct engagement with residents in 11 targeted neighbourhoods.
The non-profit hired and trained a total of 13 CLs as part of this and organised a series of demonstration events in October and November 2021.
Over the course of three separate days, the CLs visited neighbourhoods to experience the Kiwibot demonstrations, which included speaking with Kiwibot staff and placing orders for delivery.
However, it was found that the Kiwibot's delivery radius of 1.6-2.4 kilometres "substantially limited" the potential customer base, making it more difficult to onboard local restaurants.
Unlike the other three pilots, the Detroit trial was overseen by a technology incubator, Newlab, rather than by local government due to staff capacity issues at the city at the time.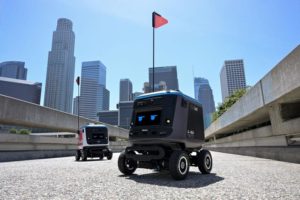 Newlab already had a presence in Detroit after it had partnered with Ford's Michigan Central to develop an Accessible Streets Studio and had selected Kiwibot to participate.
As a result, Newlab oversaw the Kiwibot pilot in Detroit, running the pilot for three months between October and December 2021 – with a delay in the City's permitting process limiting the length of the trial.
Urbanism Next staff participated in weekly meetings with the cohort, Kiwibot, Newlab, Ford City:One and UHP between May and October 2021 to track the development of the pilots and conducted mid-pilot interviews in October 2021, as well as end-of-pilot interviews in April/May 2022.
It found one of the main issues faced by the robots was related to the city's wide streets, with the devices struggling to make it across the roads before the light turned red, noting that this "may be an issue for pedestrians as well."
Autonomous future?
Despite the issues encountered in the projects, Coral said there were positives for the future.
"This pilot with Kiwibot established a model community education programme so residents understood why these delivery robots were rolling around the city and how they work.
"This increased excitement and reduced skepticism from residents and local business partners alike, while also allowing government agencies to partner and learn more about the technology and its impact on the community.
"We think this is a roadmap for how to deploy autonomous technology in cities across the country."
Denial of responsibility!
My droll is an automatic aggregator of the all world's media. In each content, the hyperlink to the primary source is specified. All trademarks belong to their rightful owners, all materials to their authors. If you are the owner of the content and do not want us to publish your materials, please contact us by email – 
[email protected]
. The content will be deleted within 24 hours.