Over the past few years, we've heard conflicting opinions about the success of mass email marketing. 
No matter which email marketing software you end up using, this marketing approach holds a bad reputation for low conversion rates. Many marketers believe it's an obsolete tactic and prefer social media to increase brand awareness and customer base. Is this, however, the case? 
Is mass email marketing a thing of the past? The short answer is no.
So what lies behind its power, and how can you use mass email marketing as an effective strategy to grow your business and acquire more happy customers? Let's start by understanding what mass email marketing is and why it's crucial.
What is mass email marketing?
Mass email marketing, or bulk email marketing, is a promotion technique of sending the same message to a large list of subscribers. The idea is to target as many prospects as possible and convert them to close sales.
Mass emails are typically delivered to an unfiltered audience that may or may not be interested in what you have to offer. Today's customers want personalized emails with information and special offers relevant to their immediate requirements. As a result, marketers now leverage email automation to send emails at scale and achieve their marketing goals.
Why is mass email marketing important?
According to a McKinsey analysis, emails are 40 times more efficient at acquiring new clients than social media. This number is the outcome of the high volume of emails (306.4 billion) sent and received every day in 2020 alone. 
According to a Statista report, this rate will rise, and the email marketing channel will reach 4.6 billion worldwide users by 2025.
Source: Statista
Mass email marketing has come a long way in the last decade, especially since the pandemic. Opening and reading emails were initially limited to a PC desktop, but now we have dedicated mobile apps.
Today's emailing software uses machine learning and automation to offer tailored information at scale. People are sick of seeing the same old messages and now prioritize diversification. Visual diversity is also critical to a marketing campaign's success.
You can still mass email your list; however, dynamic content tools allow you to replace particular elements of a bulk email with material that varies by the recipient. 
A brand, for example, may send out a daily or weekly newsletter with ads tailored to each email subscriber – with an event invitation or a product offer, based on what the subscriber has previously engaged with.
How to send mass emails
There are three main ways you can send bulk emails. Still, the best one is through a dedicated email marketing platform that makes it easy to create, send, and deliver bulk emails. Besides this, you can use Gmail or Outlook. However, certain limitations make emailing through them more time-consuming.
Mass email with email marketing software
Setting up an email marketing account is the first step in creating an email marketing campaign. You can use affordable email marketing services that won't break your bank and give you plenty of features to play around with.
After choosing a platform, create a new campaign and build your emails. Fill in some basic details about your email blast, such as campaign name, type, subject line, and sender name.
When it comes to campaign types, an HTML campaign is the best option because it allows you to integrate photos, links, text, and other unique elements into your emails.
With an email marketing tool, in addition to design elements, you get other benefits such as:
Email design options
Email list management
Personalized emails through email segmentation
Advanced reporting and analytics
Optimization tools (A/B testing)
Mass email with Gmail
Gmail is great for sending emails to individual contacts, but what if you want to email a large group of people? 
You need to use both Gmail and Google Drive to mass email. 
Open a new Google Doc (type your email)
Open a new spreadsheet
Click Extensions, Add-ons, and then Get add-ons


Source: Google Sheets

Type Yet Another Mail Merge and download the app

Select Extensions > Add-ons > Yet Another Mail Merge > Start Mail Merge
Import your contacts via Gmail or manually
Add a sender name and select your email draft (doc from the first step)
Click Send
Keep in mind:
You can send only 500 emails per day with Gmail
Deliverability issues can arise with this method
You get limited design capabilities
Mass email with Outlook
Like Gmail, mass emailing via Outlook is possible with certain limitations. To start sending mass emails using Outlook, follow the steps below:
1. Open Microsoft Word and write your email

Source: Microsoft Word 
2. Open the Mailings tab from the ribbon

Click Start Mail Merge, and then Email Messages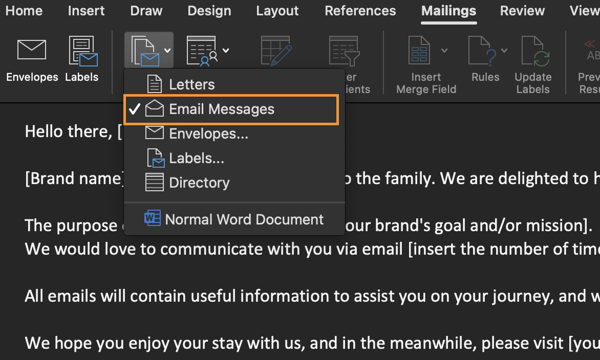 4. Click Select Recipients and choose from these three options: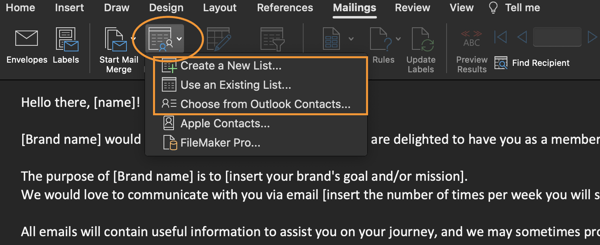 5. Click Finish & Merge, then Send Email Messages
6. Finally, write the email subject line and click Ok
Limitations to consider:
Daily sending limit
Poor email deliverability
No design customization
5 tips to create efficient mass email campaigns
Now that you understand the different ways to create your bulk email campaigns, it's time to analyze email marketing best practices to develop high-converting campaigns that'll take your efforts to the next level.
1. Email design is crucial
Email newsletter design is one of the most crucial elements in any email marketing campaign. Email platforms provide you with advanced email builders to create attractive and engaging email templates and increase conversion rates. If you're unsure about making a campaign from scratch, you can select a template from their email library.
To simplify email marketing efforts, you can choose a specific template for your niche or create your own design and save it for future use. Most email marketing platforms offer plenty of room for customization with drag-and-drop builders that let you import different elements into your design.
Some of their email blast templates are also mobile responsive, which is crucial as now most users open emails from their smart devices. You can also use custom editors to implement high-converting elements like videos, countdown timers, and product blocks into your campaigns and take them to the next level.
Tip: After creating your email design, make sure your email looks good on any device using the "preview" feature, or send a test email to yourself.
2. Segment your recipients and send personalized emails
Succeeding with mass email marketing means creating significant value for your audience. Segmentation is the best approach to create large campaigns while remaining targeted with your message.
You can do this with email software to organize your contacts based on demographics like age, gender, or interests. You can create more personalized emails that still target a larger audience with all this data. Having the same characteristics for each segment is crucial in this step to ensure a mass email campaign's efficiency.
Generic communication is no longer effective. To act, consumers need to see the value in your messages. This enhances your conversions and establishes a loyal customer base who's happy interacting with you. Moreover, incorporating your corporate email signature further adds to the professionalism and credibility of your email communications, ensuring a seamless and impactful interaction with your audience. You can use email tracking tools for an even more comprehensive approach to optimizing your email communications. These tools allow you to monitor your emails' performance, track open and click-through rates, and gain valuable insights into your audience's engagement with your messages.
3. Test your email deliverability
Before sending a mass email campaign, a basic approach is a content spam test. Testing your campaigns can help you spot spam words, avoid unsubscribes, and predict if your email will end up in the spam folder.
Inbox Service Providers (ISPs) have no idea what to expect from brand new domains and IP addresses because they don't have an established reputation. A one-way ticket to the spam inbox for any new domain or IP is a mass email campaign right out of the gate, so be cautious of where you send emails from in the first place. 
If you want to send many emails at once, consider using an older domain or warming up your IP. You'll almost certainly get better results this way. You should also avoid emailing an outdated list and expect your emails to appear in the inbox. Even if you believe your email campaign will pique their attention, it's best to repurpose or delete your old email list. 
Old lists usually end up in the spam bin, especially after the GDPR went into force. Make sure your lists are clean and include contact details of people who have opted-in to receive emails from you or marketing emails in general. These steps ensure high email deliverability and enable an efficient bulk email campaign.
4. Track and analyze your campaigns' KPIs
One of the things you need to create effective mass email campaigns is data. To optimize your marketing efforts, you need to collect key insights and metrics such as opens, conversions, click-through rates, and more.
Monitoring these parameters helps you make critical decisions about your next email marketing efforts. So, what key performance indicators (KPIs) would you analyze to determine whether your campaigns are effective?
Open rate: Of all people who received your email, this is the percentage of people who opened it. A big factor that plays a significant role in your open rates is timing. Schedule emails at the right time when sending mass emails.
Tip: If the subject line is appealing and the reader believes the email contains valuable information, they will open it. A pro tip is to explain why the reader should care.
Click-through-rate (CTR): This metric describes the number of people who clicked a link in your email. The goal of your content should be to get the reader to click on the call-to-action (CTA). CTRs are usually low when your copy doesn't offer value or convince the reader to take the extra step.
Unsubscribe rate: This is the percentage of subscribers who opted out of your email list. When you send a bulk email campaign, expect some people to unsubscribe, but don't worry about it. Unsubscribes may be due to the frequency of emails, type of content, or many other factors. It's essential to conduct real-time reporting and analytics to keep track of the necessary email marketing KPIs and metrics. Data-driven decisions power your email marketing strategy.
5. A/B test your campaigns 
To keep up with your recipients, you need to find out what they like best. As such, testing is essential to your email marketing efforts.
A/B testing determines how your audience interacts with your mailing campaigns. You can send several versions of the same campaign to see which components resonate better with your buyer persona. Understanding what elements work best for your audience is critical and can skyrocket your campaign's success.
You can A/B test different elements of your email design, such as:
Subject line
CTA
Visuals
Interactive elements
A/B testing can help you find the sweet spot to increase audience engagement and improve return on investment (ROI).
FAQs: Mass email marketing
Many questions crop up when we talk about mass email marketing. And if you know the answers, you'll avoid confusing bulk email marketing as a spam technique.
How often should I send mass emails?
Sending one or two mass emails every week is ideal for most brands, especially if you're just getting started with email marketing. When it comes to frequency, context is crucial. You need to set the frequency based on your email marketing approach.
What's wrong with mass email blasts?
Abnormal activity can be reported in email accounts, and sending a bulk email out of the blue is sometimes a red flag. Your IP address may be blacklisted, and you may be banned from using your service provider, especially if your emails lack personalization, relevance, and tone.
How to measure a mass email campaign's success
Measure primary email metrics like open rate, click-to-open rate, unsubscribe rate, and email delivery rate to see if your email campaign was successful.
Share your message the right way
Mass email marketing is an excellent way to share your message, but your campaigns need to evolve as customer behavior and interests change. Generic email is no longer relevant, and brands need to optimize their campaigns and create valuable content for the different email segments.
Email design is an excellent place to start. However, you only have room for customization if you use email software with a library of email templates. When an email is in place, segmentation and personalization are two parameters that make or break your campaigns. So, take some time to complete this challenging task.
Finally, focus on email deliverability and trust your analytics to optimize your email blasts. Email marketing is an ongoing process that requires a lot of experimentation. You can also A/B test elements of your emails to understand what works best for your audience and provide your readers with a unique experience.
Until the next one, keep sending emails.
Struggling with email delivery? Learn more about email deliverability to get that message straight to your customers' inboxes.
Denial of responsibility! My Droll is an automatic aggregator of Global media. In each content, the hyperlink to the primary source is specified. All trademarks belong to their rightful owners, and all materials to their authors. For any complaint, please reach us at – 

[email protected]

. We will take necessary action within 24 hours.