HYBE share price plummets as BTS announce break. But could band's hiatus actually be good news for the Korean company?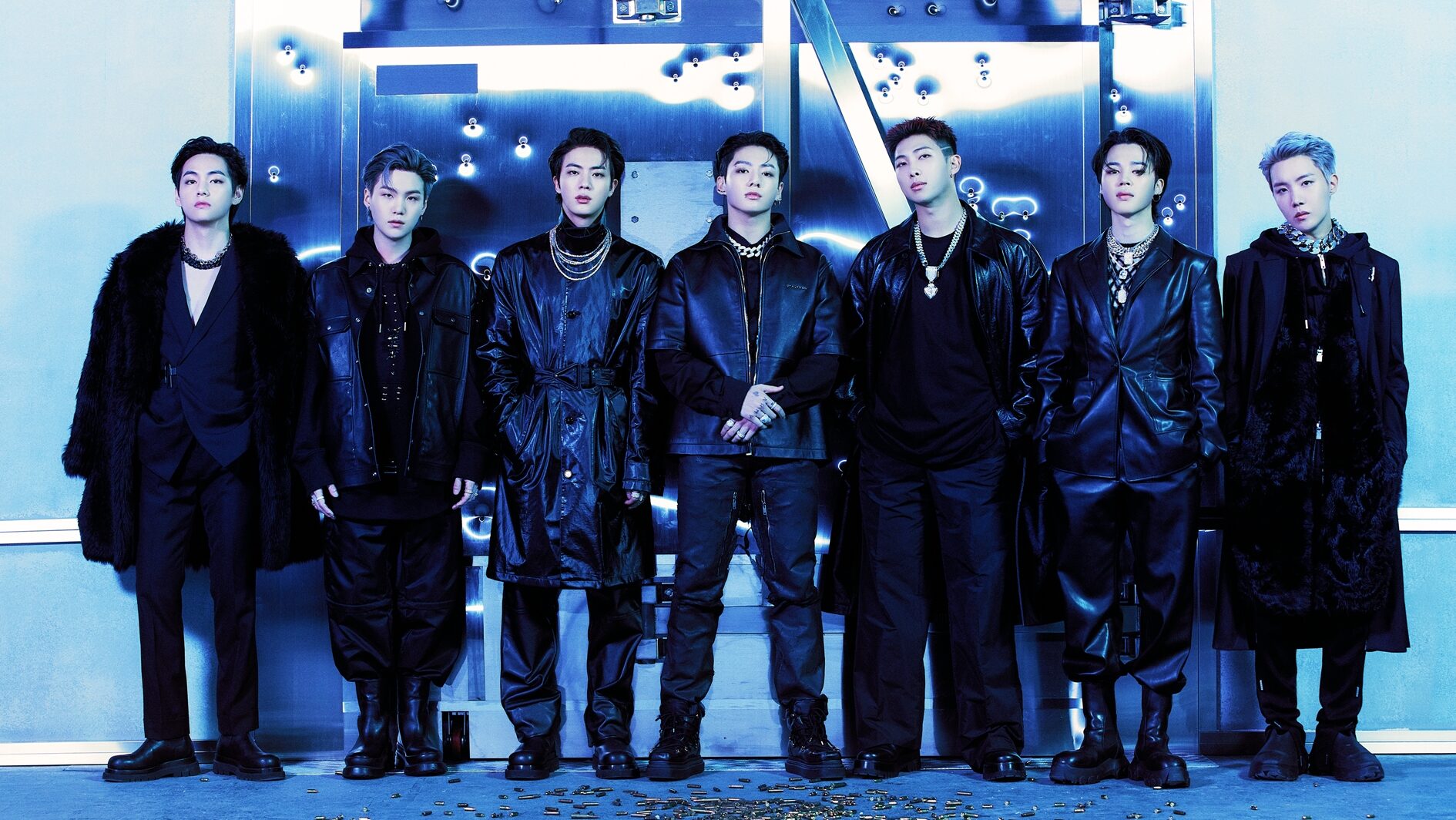 The MBW Review is where we aim our microscope towards some of the music biz's biggest recent goings-on. This time, we delve into what BTS's news of a hiatus means for HYBE's investors. The MBW Review is supported by Instrumental.
---
BTS shared some shock news this week that spooked investors in HYBE, the publicly-traded K-pop company behind the group.
Yesterday (June 14), the K-Pop superstars published a 'BTS Dinner Party' video on their official YouTube channel to their 67.9 million subscribers.
Over dinner, the band discussed challenges they're facing – and revealed that they would be taking a break to pursue solo projects.
Today (June 15), in an official press release, HYBE-owned label BIGHIT MUSIC confirmed that the group will be focusing on solo projects going forward, but added that they will also remain "active as a group".
In a statement, BIGHIT said: "BTS now starts a new chapter with new solo projects as well as group projects.
 "BTS now starts a new chapter with new solo projects as well as group projects."

BIGHIT MUSIC 
"Members will take this time to achieve personal growth through various new activities, and we expect it to further strengthen the foundation for the group's long-run as a team.
"BIGHIT MUSIC will actively support the artists."
BTS member J-Hope is the first of the group to officially kick off his solo career with an upcoming album.
News of a BTS 'hiatus' caused HYBE's shares to fall by nearly 25% to 145,000 South Korea Won on Wednesday (June 15), wiping around $1.5 billion from the K-pop giant's market cap value.
---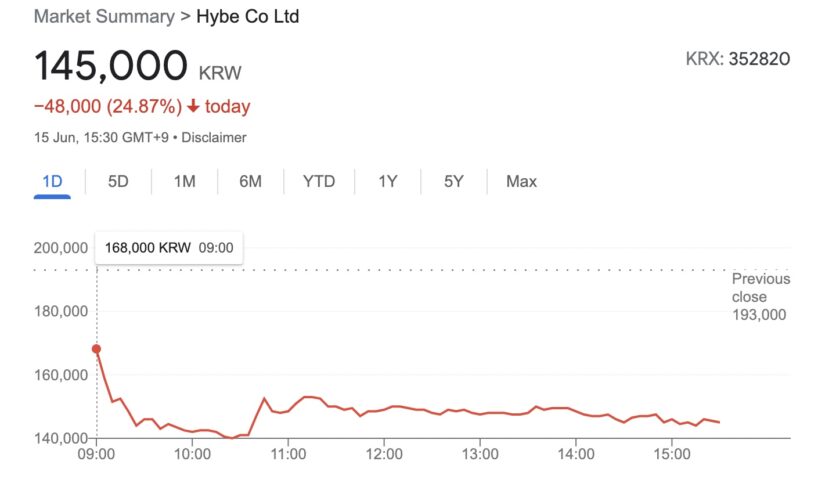 ---
Investors have good reason to be concerned.
As HYBE's flagship group, BTS are a key revenue driver at the company, although the band's share of HYBE's revenues has been lessening in recent years.
Nearly 90% of HYBE's (then Big Hit's) revenues in the first half of 2020 were BTS-related.
(The group was also a key contributor to the company's 191 billion South Korea Won (approx $147m) revenues generated from concerts that year, and has been each year since.)
---
But according to HYBE's FY 2021 results, BTS was responsible for nearly a third of the company's album sales (and AES streams) in the US market last year.
That, of course, was the same year it acquired Scooter Braun's Ithaca Holdings (in a billion-dollar deal), including SB Projects and Big Machine Label Group.
---

---
BTS's dominance amongst HYBE's roster of other K-pop artists is also interesting to ponder.
According to HYBE's investor filings, the firm's four biggest-selling Korean artists in 2021 were BTS, Seventeen, TXT, and Enhypen.
BTS accounted for 49% of a collective 15.1 million albums sold by these acts in 2021 (see above).
BTS's share of this metric declined from 70% in 2020, and 78% in 2019.
---
While the music business continues to speculate about what this news means for HYBE's share price long term, something shareholders should understand about a BTS hiatus is that it could supercharge the company's business.
Here's a few reasons why that could be true…
---

1. a BTS taking a break as a group could mean that HYBE gains seven superstar solo stars…
Musical history is littered with examples of superstar pop groups producing superstar solo artists with long and lucrative careers.
The Supremes gave us Diana Ross. From The Beatles, came Paul McCartney.
More recently, in the US, Justin Timberlake emerged from boy band NSYNC as a megastar in his own right, proving as much with his recent catalog sale to Hipgnosis, in a deal the Wall Street Journal reported to be worth $100 million.
"In the US, Justin Timberlake emerged from boy band NSYNC as a megastar in his own right."
Over in the UK, since pop band One Direction disbanded, Harry Styles has also morphed into a global pop phenomenon, breaking the first-week vinyl sales record in the US with his latest LP, Harry's House.
According to BTS and HYBE, at the root of this week's announcement is that the band's members want to pursue solo projects.
What, then, if even two or three individual artists that comprise BTS go on to enjoy solo careers as successful as the likes of Justin Timberlake or Harry Styles?
It would be great news for them, great news for HYBE, and great news for HYBE's investors.
Each of the seven members already have their own respective Spotify artist profiles with significant monthly listener counts, plus large individual social media profiles after launching their respective Instagram accounts in December.
BTS's vast fanbase, combined with the powerhouse backing from HYBE, could see investors' K-pop fortunes multiple seven-fold in years to come.
---

2. HYBE's 'artist indirect' business line was its main revenue driver for the past two consecutive years…
HYBE's investors should remember these three words: "Indirect Artist Involvement" – revenue-generating projects that use an artist's brand/likeness, without the actual artist needing to be involved.
This business line is the main reason why HYBE thrived during the pandemic, becoming the company's primary revenue driver in 2020 in the absence of live shows during this period.
"This 'Artist Indirect-Involvement' business was HYBE's main revenue driver in every quarter of 2021."
In FY 2021, a year in which HYBE revenues surpassed $1 billion in revenues for the first time, the company's biggest organic revenue driver was, once again, its "Artist Indirect" business, accounting for more than 60% of the company's revenues. These "Artist Indirect" business activities generated 733 billion KRW ($640m) last year – up 72.8% YoY (see below).
---

---
This 'Artist Indirect-Involvement' business was HYBE's main revenue driver in every quarter of 2021, including Q1 (ending March 31), Q2 (the three months to the end of June), Q3 (the three months to the end of September) and Q4 (ending December 31). It was only overtaken by the company's 'Artist Direct Involvement' business line in Q1 2022.
An example of one of Big Hit's Artist Indirect businesses is 'TinyTAN' – cartoon character versions of the seven BTS members used for licensed products and brand partnerships with the likes of Korean Fabric Softener brand Downy. The Tiny Tan brand has a significant following of its own, with 3.9 million followers on Twitter alone.
---

3. could Hybe hypothetically release BTS music without their active participation?
This next point is purely speculative. But based on Spotify's recent acquisition of a company that created an AI audio model based on Val Kilmer's voice for Top Gun Maverick, it's not completely out of the realm of possibility.
What if HYBE continued to release BTS music (or at least BTS content), even without the band actively contributing vocals to that music?
In early 2021, HYBE (then-Big Hit Entertainment) invested 4 billion KRW (approximately $3.6m) into a Korea-based Artificial Intelligence company called Supertone.
Supertone claims that its AI tech can create "a hyper-realistic and expressive voice [not] distinguishable from real humans".
The company also claims that its Singing Voice Synthesis (SVS) technology can learn songs in a specific style and then mimic what it's learned, even over new compositions.
"Supertone claims that its AI tech can create 'a hyper-realistic and expressive voice [not] distinguishable from real humans'."
You might recall that Supertone made headlines last year for using its SVS technology to "resurrect" the singing voice of South Korean folk superstar Kim Kwang-seok, with the resultant cloned voice debuted on Korean television show Competition of the Century: AI vs Human.
Speaking to CNN in January 2021 – a month prior to Big Hit's investment – Supertone COO Choi Hee-doo explained that another hypothetical use for its SVS tech could be BTS-related
"BTS is really busy these days, and it'd be unfortunate if they can't participate in content due to lack of time," Choi Hee-doo said.
"So, if BTS uses our technology when making games or audiobooks or dubbing an animation, for instance, they wouldn't necessarily have to record [their vocals] in person."
In other words, Supertone's voice cloning AI could theoretically be taught to 'sing' BTS's entire catalog, and then replicate each of the individual members' voices for future recordings.
---

4. HYBE has been preparing to be less reliant on BTS.
HYBE has been laying down the groundwork for a post-BTS business for some time.
The company's $1 billion acquisition of Scooter Braun's Ithaca Holdings last year hints at a diversification strategy beyond a BTS-driven business.
According to HYBE's FY 2021 results, US album sales for Ithaca artists totalled 12.3 million, with SB Projects and Big Machine Label Group accounting for 7.5 million and 4.8 million respectively (see below).
---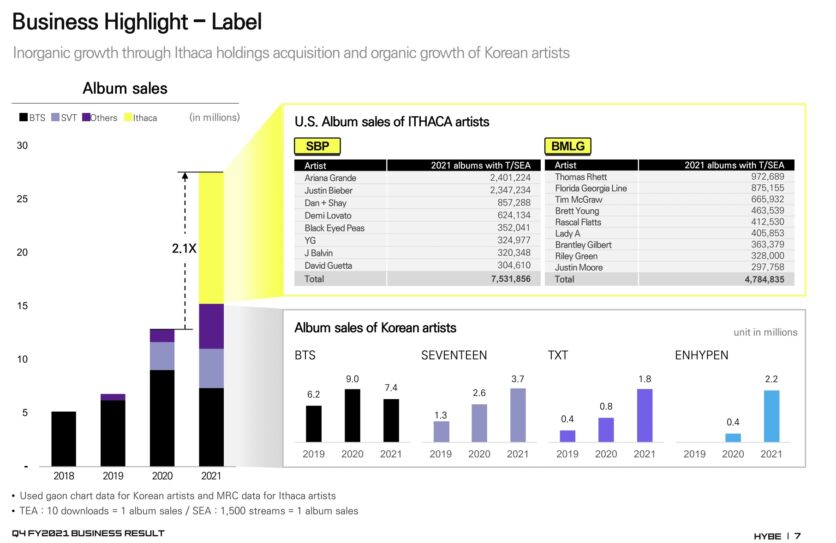 ---
In addition, BTS's declining share of global album sales amongst HYBE's four biggest-selling Korean artists (49% in 2021 versus 70% in 2020) highlights a possible changing tide at the company as its other artists become more popular.
SEVENTEEN, for example, recently scored their highest Billboard 200 debut (No.7) with their fourth studio album Face the Sun (PLEDIS Entertainment/Geffen Records), their first in partnership with Geffen.
HYBE says that SEVENTEEN also became the second artist in K-pop history, after BTS, to rack up over 2 million first-week album sales for the alum (released May 27).
With 2.06 million units sold, HYBE says that Face the Sun also scored the largest first-week sales tally for any album released in Korea in 2022 so far.
---

The MBW Review is supported by Instrumental, one of the music industry's leading growth teams for independent artists. Instrumental uses data science to identify the fastest growing independent artists on the planet and then offer funding, premium distribution and marketing support to take them to the next level, without taking their rights.
Music Business Worldwide
Denial of responsibility!
My droll is an automatic aggregator of the all world's media. In each content, the hyperlink to the primary source is specified. All trademarks belong to their rightful owners, all materials to their authors. If you are the owner of the content and do not want us to publish your materials, please contact us by email – 
[email protected]
. The content will be deleted within 24 hours.