The Ohio teenager dubbed "hell on wheels" — who was convicted of intentionally crashing her car at 100 mph into a building, killing her boyfriend and his friend — was sentenced to two concurrent 15 years-to-life sentences Monday.
Mackenzie Shirilla, 19, was sentenced on murder charges in the deaths of her boyfriend, Dominic Russo, 20, and Davion Flanagan, 19. She will receive credit for time served and have her driver's license suspended for life. 
Shirilla was convicted last week in a bench trial on 12 counts, including murder, for the crash in July 2022.
Shirilla, then 17, drove without braking into a brick building in the Cleveland suburb of Strongsville. The passengers, Russo and Flanagan, were pronounced dead at the scene. 
Cuyahoga County Common Pleas Judge Nancy Margaret Russo said Monday she grappled with whether to give Shirilla consecutive or concurrent sentences. 
"I understand that the pain in this room wants me to impose the harshest sentence, but I don't believe that would be the appropriate sentence, because I do believe that Mackenzie won't be out in 15 years," she said. 
'I'm so deeply sorry'
Shirilla, who did not testify, spoke before the court before the sentence was read.
"The families of Dominic and Davion, I'm so deeply sorry. I hope one day you can see I would never let this happen or do it on purpose. I wish I could remember what happened," she said, crying.
"We were all friends, and Dom was my soul mate," she said. "I wish I could take all your pain away. And to my family, thank you for the support and all the love you guys give. I love you all so much."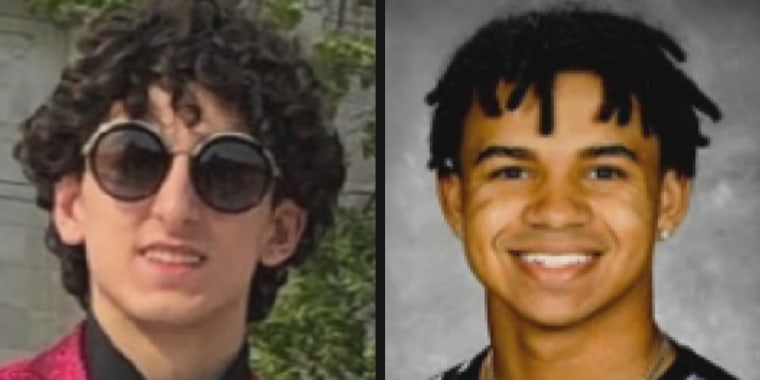 Victims' families asked for harshest sentence
The victims' relatives spoke before the sentencing.
"Mackenzie, going to prison because you did this, be thankful you're still alive and have a future, whatever that may be," said Dominic's mother, Christine Russo.
"Dom and Davion were robbed of their futures, their hopes and their dreams. Mackenzie showed no mercy on Dominic, nor did she on Davion. Only God at this time can have mercy on her soul," she added. 
Davion Flanagan's mother said his death has devastated their family. 
His sister, Davyne Flanagan, said: "I feel stuck. I feel like I can't move forward. I feel lost. … I would like you to give Mackenzie the longest possible sentence. I've known her for about three years, and she's always taking the easy way out."
Before the sentencing, the prosecution presented TikTok videos showing Shirilla at a concert and celebrating Halloween after the crash. 
Shirilla's mother told the judge that the outings were the only times she did something for herself, saying her daughter had been holed up in her room crying next to a shrine she had made of Dominic Russo for months. 
"I'm asking for leniency because this is a tragic accident she doesn't remember. Davion … he's a new friend," Natalie Shirilla said. The judge cut her off and said: "What does that mean — his life was worthless?"
Natalie Shirilla walked back her comment and apologized to the victims' families. 
Dominic Russo's father, Frank Russo, told NBC News last week that he didn't want Shirilla to spend her life in jail despite her actions.
"It's horrible for everybody. Yeah, I lost my son, it's harder on our family, but I don't want the rest of her life ruined, too. It isn't going to make me feel any better," he said.
The trial
At last week's verdict, the judge shared blistering remarks and condemned Shirilla's actions, saying: "She had a mission, and she executed it with precision. The mission was death."
The crash happened around 5:30 a.m. on July 31, 2022, when Shirilla accelerated her Toyota Camry into the Plidco Building, a large brick building at the intersection of Progress and Alameda drives in Strongsville, police and prosecutors said.
Police arrived at the scene around 45 minutes later. Russo and Flanagan were pronounced dead at the scene; Shirilla was hospitalized.
The judge said in her verdict remarks that Shirilla was "literal hell on wheels," saying she intentionally drove at an hour when not many witnesses would be around, on a path she didn't routinely use but had visited days before.
Prosecutors argued in the trial that Shirilla had become turbulent and threatening toward her boyfriend and that she crashed to end their relationship.
Two weeks before the crash, she allegedly threatened to crash her vehicle when she was driving with Russo because she was upset over a disagreement they had had. Russo called his mother and asked to be picked up, and a friend ended up retrieving him. In a phone call with Russo, the friend allegedly overheard Shirilla say, "I will crash this car right now," prosecutors said in court documents. 
The month of the crash, Shirilla allegedly "made multiple threats" toward Russo. Videos recovered from his phone reveal an altercation in which she was heard "repeatedly degrading Dominic, threatening him, and damaging his property," prosecutors said in court documents. She allegedly threatened to key his car and to break the handle off a door after he refused to let her into his home, the filings said. 
The trial featured security video played in court showing the moment Shirilla accelerated toward the building without stopping, until a gut-wrenching crash is heard.
The judge noted in her sentencing remarks that even after the crash, Shirilla appeared to be concerned about losing her license.
"During the investigation, she asked if they could just suspend her license for 10 years," she said. "It's hard to fathom how a person could be concerned about their driving privileges having just been responsible for the deaths of two people."
Denial of responsibility! My Droll is an automatic aggregator of Global media. In each content, the hyperlink to the primary source is specified. All trademarks belong to their rightful owners, and all materials to their authors. For any complaint, please reach us at – 

[email protected]

. We will take necessary action within 24 hours.