RoboCop has been around for almost 40 years, appearing in every form of media short of vaudeville and Phillip Morris-sponsored radio serials. Here, we're taking a look at every version of the character we've seen to date, and ranking them on a scale of one to four Peter Wellers. Not to give the game away, but Peter Weller grades pretty well on this curve. 
Peter Weller RoboCop (RoboCop & RoboCop 2)
Unless you're a peanut M&M or the superior taste of New Coke, you just can't beat the original. By all accounts, Peter Weller went through an absolute garbage fire of a production process to give us his take on everyone's favorite OCP cyborg. In order to nail down the mechanical movements of the character, he spent months training with a professional mime, which already sounds like the sort of punishment that should be reserved for serial arsonists. But wait, there's more.
When he finally got into the suit, Weller couldn't move the way that he'd been practicing, and had to put together a whole new repertoire of body language for his character. He argued with the director, up to the point where he was fired from the production, but he was brought back when the higher-ups realized that the costume wouldn't fit anyone else. The weight of the suit and the heat of the Texas shooting locations caused him to lose, by his own recollection, around three pounds of water weight a day. All of this is ancillary – the performance that Weller turned in is iconic on its own merits – but it's wild to think that he pulled it off while getting in daily shouting matches with his boss and trying to make weight to ride Seabiscuit. 
Final score: Four out of four Peter Wellers. Classics are classics for a reason.
Robert John Burke RoboCop (RoboCop 3)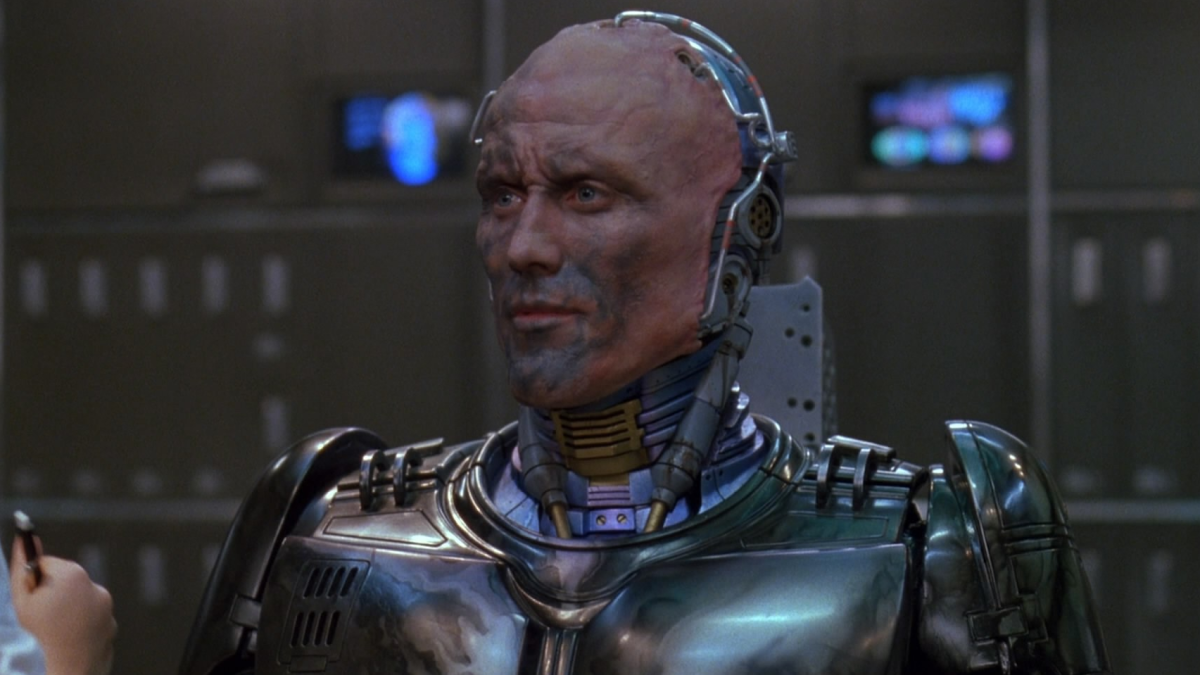 There was this thing that happened a lot in the '90s where iconic characters returned for their threequels just a little bit… wrong. The Ninja Turtles got all clammy looking in Turtles in Time. The Dark Knight got poutier lips and a more anatomical suit in Batman Forever. Ellen Ripley got a buzz cut, Marty McFly got a gun, and RoboCop got a new face, a kid sidekick, and a PG-13 attitude adjustment. 
It's hard to blame Peter Weller for opting out of a third outing in a 90-pound plastic suit of urinal-obstructing armor, and no amount of the original cast was going to un-ruin this script. Still, fans were outraged at the very idea of seeing 20 percent of any other actor's face under that helmet, and they made it known. It was an important lesson for RobosCop moving forward: If cackling drug dealers don't get you, franchise purists will.
Final score: Two out of four Peter Wellers. One of the only times when cleaning up the character design somehow made it look worse.
Cartoon RoboCop
Back in the '80s and '90s, suspiciously close to that time when Reagan deregulated children's programming and made it kosher for kids' shows to basically just advertise action figures for 30 minutes at a time, you couldn't swing a stick without hitting three surreally inappropriate cartoon adaptations of R-rated movies. Police Academy, Highlander, Conan, and more all got the Saturday morning treatment, and if you think toy companies were going to sleep on an instantly recognizable property like RoboCop, then Murphy, you're a mess.
The animated series RoboCop was a paint-by-numbers, G.I. Joe-adjacent weekly cartoon adventure where the guns shot colorful, non-lethal lasers. Generic OCP villains like the robot-handed Doctor McNamara had their plots foiled by Robo and co. If nothing else, it's maybe your only opportunity to see a bloodless, cartoon version of the scene from the movie where Murphy gets shot a thousand times. They play that in the opening credits. You know, for kids.
Final score: One and a half Peter Wellers out of four. All the bleakness of Batman: TAS without any of the watchability.
The Other Cartoon RoboCop
As the '90s progressed, American cartoons got a bad case of the Rob Liefelds, tacking a solid 50 percent of their heroes' body weight onto their shoulders and adding bigger and bigger guns. RoboCop, already essentially a guy wearing football pads, somehow managed to get the worst of this treatment in RoboCop: Alpha Commando. 
RoboCop: Alpha Commando lasted for, in hindsight, an alarmingly long run of 40 episodes between 1998 and 1999. It saw our hero exiting a five-year cryogenic sleep, another classic plot point for pop culture of the era. Even by the standards of a franchise revolving around a guy who got shot so many times he needed to get turned into a robot, this take on the character was pretty silly. It is remembered by approximately nobody.
Final score: Two out of four Peter Wellers. Credit for keeping the franchise's ball in the air, but not much else.
Canadian RoboCop
The first shot at a live-action RoboCop TV series was, in theory, crazy expensive. Watching it today, almost 30 years after its 1994 debut, it's difficult to put your finger on exactly where the money went, but you can definitely tell where it didn't go: into the franchise's trademark ultraviolence. Toned down a thousand percent to meet CTV broadcast standards, it saw RoboCop (played by Santa Barbara's own Richard Eden!) racking up a body count to rival Count von Count's. The main bad guy, Pudface, looked like someone put on half of Freddy Krueger's makeup and then got bored and quit. 
On the up side, Roddy Piper, the MSG of guest stars, showed up for one episode. And that's the whole list of up sides.
Final score: Two and a half Canadian Peter Wellers, which unfortunately only converts to a little less than two normal Peter Wellers.
Slightly Less Canadian but Still Pretty Canadian RoboCop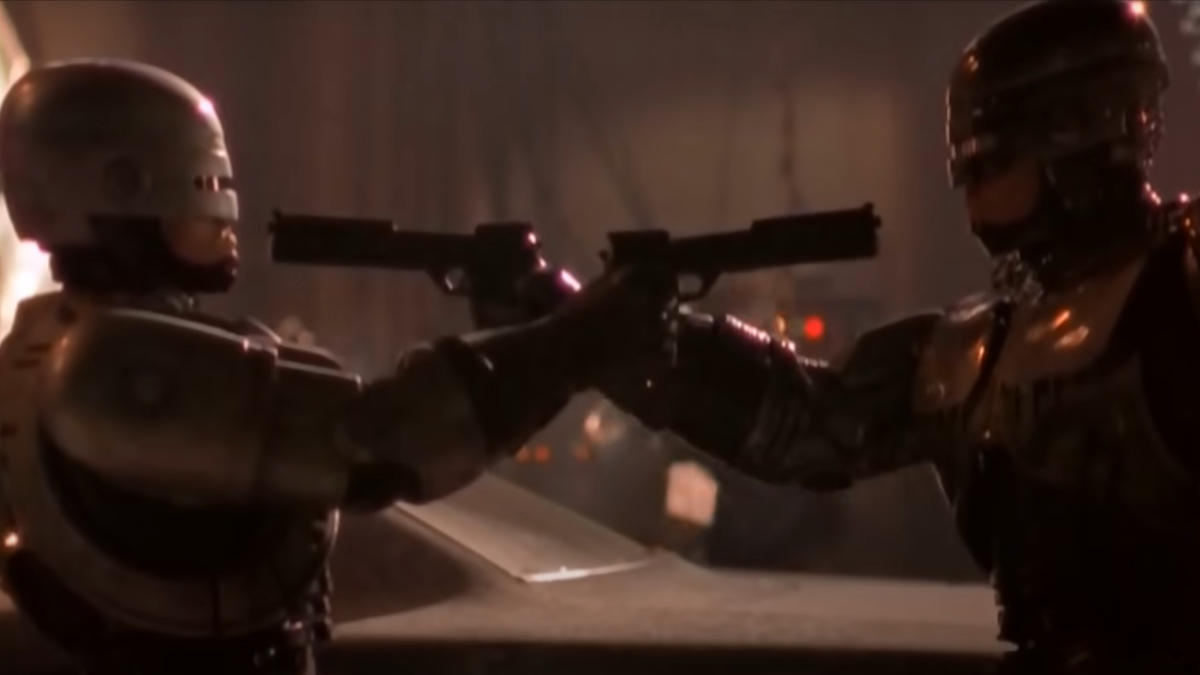 RoboCop: Prime Directives was a four-episode miniseries that sprang from a production company's noble desire to pump something out on the quick before the rights to the RoboCop franchise lapsed. And boy oh boy, does it show.
That's not entirely fair. The series starred Page Fletcher as the future of law enforcement, who proudly stated that he never studied Peter Weller's performance ahead of time, which is sort of a wild flex if you're trying to get fans on your side. Prime Directives was designed to bring Robo back to his roots, returning to an age of shoot-em-up action and thrilling heroics. Unfortunately, it was also made fast, cheap, and in Toronto, and it was an absolute product of its time. Released in 2001, each episode seems to operate under the belief that there's no such thing as an angle too Dutch, and that slow motion is more than just an idea, it's a way of life. If your heart is pure and your eyeballs are in Canada, you can still catch reruns to this day.
Final score: Two and a half regular Peter Wellers, but you have to navigate the Sci Fi Channel's labyrinthine early-2000s schedule to get them.
RebootCop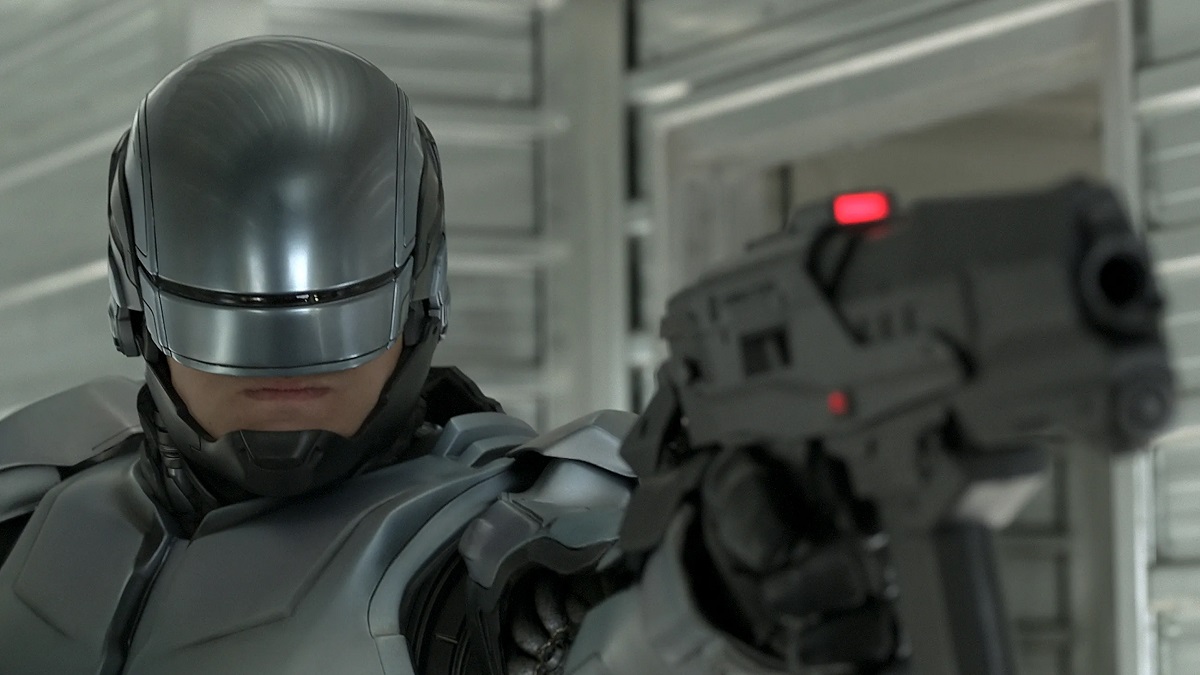 Things got a little heated back in 2014. The very idea that a studio would reboot RoboCop with a different actor was outrageous – unprecedented, even, if you didn't count all of the other times when it had happened. 
Really, the 2014 RoboCop's greatest sin was calling itself "RoboCop." Setting aside the beloved nature of the source material, it's not half bad – a little toothless, with its PG-13 rating and lack of Karo syrup blood geysers, but it's slick and fun and it does its own thing. The redesigns on Robo and the ED units are reverent without being too samey, and the cast is stacked – Sam Jackson, Gary Oldman, and Michael Keaton as a slimy tech bro. Joel Kinnaman offers a more human take on Alex Murphy, still possessing his memories and emotions, which makes the amped-up body horror scenes pretty chilling, even if they lose some of their tactile grossness thanks to the transition from practical effects to CGI. 
Final score: Zero out of four Peter Wellers, but five out of six Joel Kinnamans. Kinnamen?
Comic Book RoboCop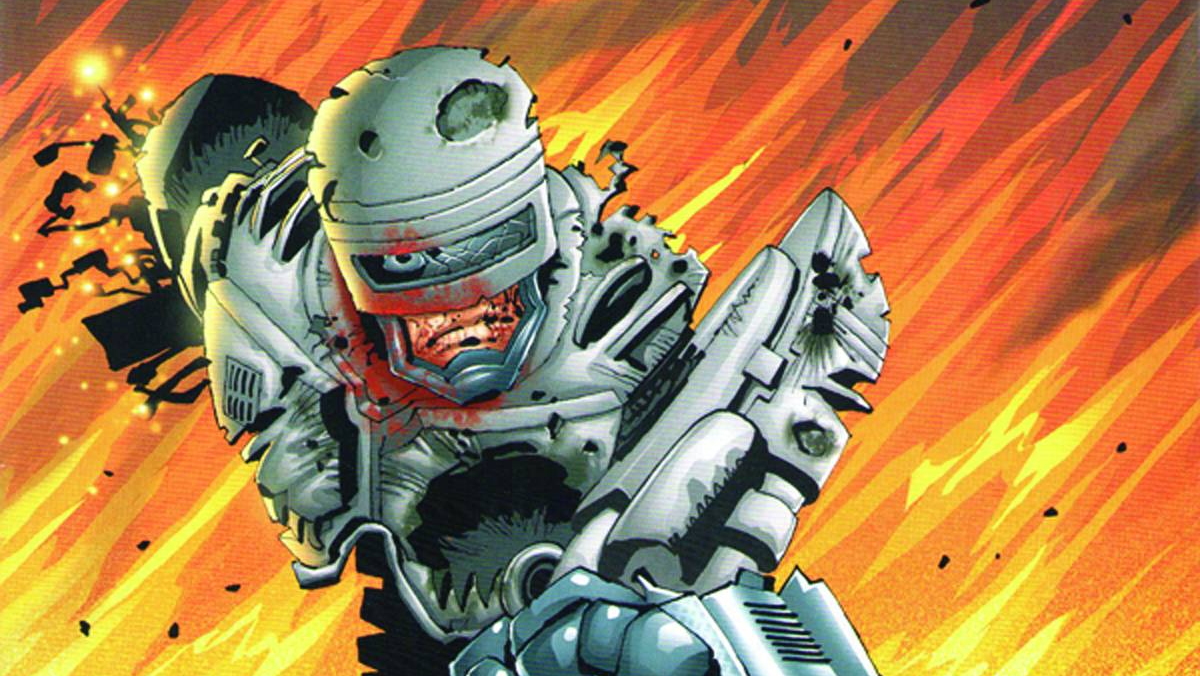 There's a nice upshot to making the switch from movies to comic books. In movies, adding a city-wide artillery-heavy gunfight between warring factions of future punks will add a solid $100 million to the budget. In comics, it just means that the penciller will get carpal tunnel a little bit sooner.
So it makes sense that some of RoboCop's biggest adventures came on a paneled page. Thanks to the comic book medium, he's fought Terminators, roamed the post apocalyptic wastes, and explored the Frank Miller stories originally pitched for RoboCop 2 and 3 but deemed "unfilmable." Bizarrely, he's just about the only licensed comic book property who hasn't done a Mars Attacks crossover.
Like most extended universe stuff, your mileage may vary, but the RoboCop comics generally aren't the worst way to scratch that itch. The worst way is watching that TV show from 1994.
Final score: Anywhere between one and four Peter Wellers. They've been printing these things for decades, the quality is all over the place.
Adorable Winking Pastiche/Cameo RoboCop
Brand recognition is a beautiful thing, and RoboCop is nothing if not recognizable. As a result, he's popped up across all manner of media. 1995's Indian in the Cupboard, a film that's just bonkers to look back on and go "that exists" 28 years later, sees its main character briefly bringing a RoboCop action figure to life through the power of a cupboard that Pet Sematary's toys. Ready Player One brought Robo into its digital Oasis arena. Mortal Kombat 11 saw Robo enforcing fellow kombatants' faces into the concrete thanks to the magic of DLC. America: The Movie featured some sort of RoboCop, which would have really been something if anyone had watched America: The Movie. 
There's BroboCop, the RoboCop pastiche from the 2015 game Broforce. There's ProtoCop, the ill-fated home invader from Kiss Kiss, Bang Bang whose toys wind up severely discounted after a run-in with Michelle Monaghan. There's the Fatal Frame remake of the scene from the first movie where RoboCop shoots that guy in the crotch, which I can't in good conscience recommend unless you're ready to lose your job. Like, you'll lose your job even if you wait to get home to look it up. You'll never work again once people find out you saw this thing.
Final score: Three Peter Wellers. It's just nice to know that there are fans out there.
Southern Chicken Abomination RoboCop
You know how a lot of advertising has sort of turned into the kind of nightmare you have when you fall asleep watching Adult Swim on painkillers? Well, in 2019, Peter Weller returned to voice RoboCop in a series of KFC commercials where RoboCop was the Colonel. It would be great if we had a better explanation, but that's as clear as things are going to get. They stuck a wig and a goatee on RoboCop and made him Colonel Sanders. Sometimes life sneaks up on you like that.
Final score: Disqualified for making me feel too scared of the world to buy chicken.
What Was Old Is New Again RoboCop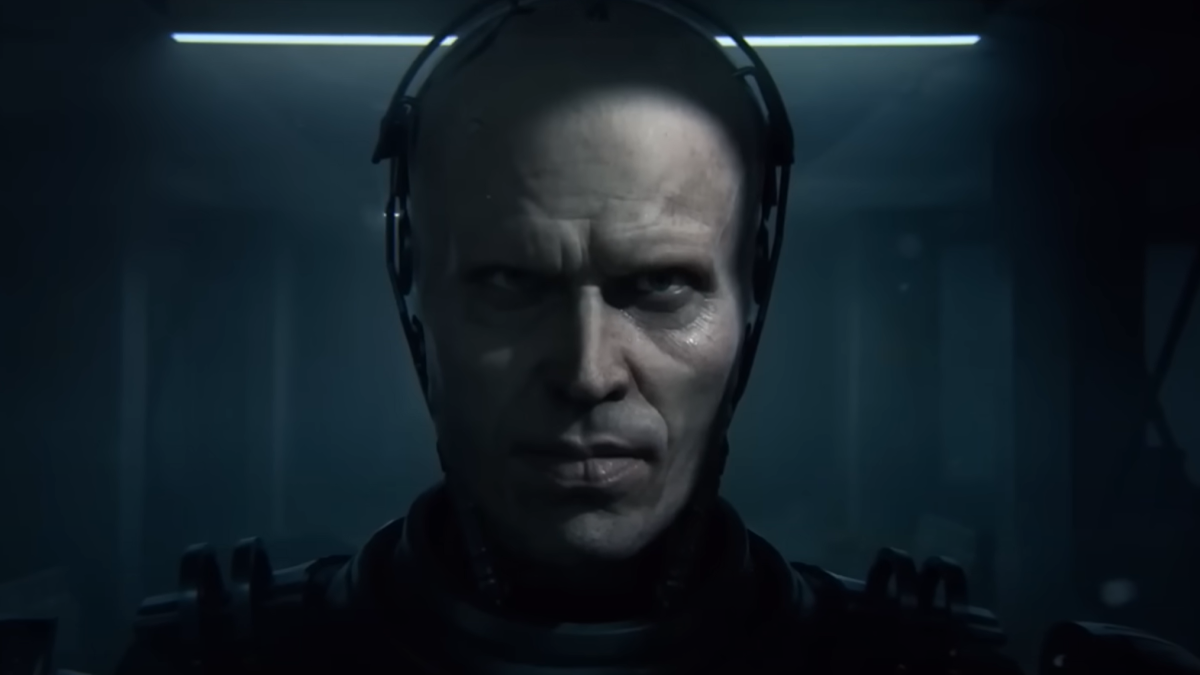 In 2023, RoboCop is set to return once again. This time, though, things are different, in that they're exactly the same as they used to be. Peter Weller returns to the role that first defined him as something other than "the guy who played Buckaroo Banzai" in RoboCop: Rogue City. This first-person shooter takes audiences into what's left of the head of Alex Murphy as he serves and protects the people of Detroit, gunning down wave after wave of cackling bad guys. As highly anticipated as it is highly delayed, RoboCop: Rogue City looks like a heartfelt love letter to fans of the original movie, and of wildly over-the-top video game violence. 
Final score: Four out of four preemptive Peter Wellers, awarded on the assumption that this game ever actually comes out.
Denial of responsibility! My Droll is an automatic aggregator of Global media. In each content, the hyperlink to the primary source is specified. All trademarks belong to their rightful owners, and all materials to their authors. For any complaint, please reach us at – 

[email protected]

. We will take necessary action within 24 hours.