The Whitlam government has a mythical status in the Australian popular imagination. While it lasted less than two full terms between December 1972 and November 1975, it has had an outsized cultural presence ever since.
This is not just because of Gough Whitlam's transformative social democratic agenda, but because of the way his government ended: the dismissal remains one of the most shocking events in Australian political history.
Each year since, we have marked the anniversary with new stories, new angles, new details. The story has all the ingredients of high drama – indeed, the story was told in a rather ponderous television mini-series in 1983.
So almost 50 years on, what to make of a comedic musical retelling of these tumultuous events?
The Dismissal's talented creators (Jay James-Moody, Blake Erickson and Laura Murphy) are neither Boomers who watched the dismissal from ringside seats or dewy-eyed Gen-Xers, but younger still.
For their generation, forged in a neoliberal world much harsher than the one that lifted up their parents and grandparents, the Whitlam policy agenda of free education, free healthcare and social democracy for all might seem like a distant, unattainable dream.
Crucially, the authors also don't see the dismissal as a unique event. In their program notes, they argue the show is
the story of our political culture writ in bold, sung in harmony and danced in formation. Over, and over again.
So this show is not just a dramatisation of the events of 1975, it is also an attempt to understand our maddening political culture.
---


Read more:
Australian politics explainer: Gough Whitlam's dismissal as prime minister


---
Self-referential and extremely funny
Norman Gunston (a superb Matthew Whittet) guides the audience through the story and sets the tone for the show. We begin with the famous moment on the Parliament House steps. Playing Gough, Justin Smith both sounds and looks like him – no mean feat.
The Dismissal is least effective when it is striving for sincerity: the early number Maintain your Rage left me concerned the show might be too earnest to be genuinely funny.
However, my anxieties were assuaged by a very clever romp through the post-war years of Liberal rule (from Menzies to Holt to Gorton to McMahon), sung by suburban housewives and their lawn-mowing husbands. It is self-referential and extremely funny and sets a high bar for the rest of the show. Murphy's lyrics are wonderful throughout, but they are especially brilliant here.
After Whitlam's election, his policy achievements are dealt with in a rapid-fire slideshow, which moves things along but lowers the stakes in what follows. The real subject of the drama is the unravelling of the Whitlam government from within, thanks to the shenanigans of Jim Cairns, Rex Connor and the loans affair, and the role played by Sir John Kerr, Malcolm Fraser and Sir Garfield Barwick in undermining him from the outside.
The cast are uniformly excellent. Peter Carroll is uproarious as a Mephistophelian Sir Garfield Barwick. Octavia Barron Martin manages to invest Sir John Kerr with a touch of pathos. Monique Sallé is a showstopping Tirath Khemlani, a befuddled Billy Snedden and her Queen Elizabeth II has more than a touch of Rocky Horror about her. Joe Kosky's Jim Cairns is both pompous and ponderous, with brilliant comic timing.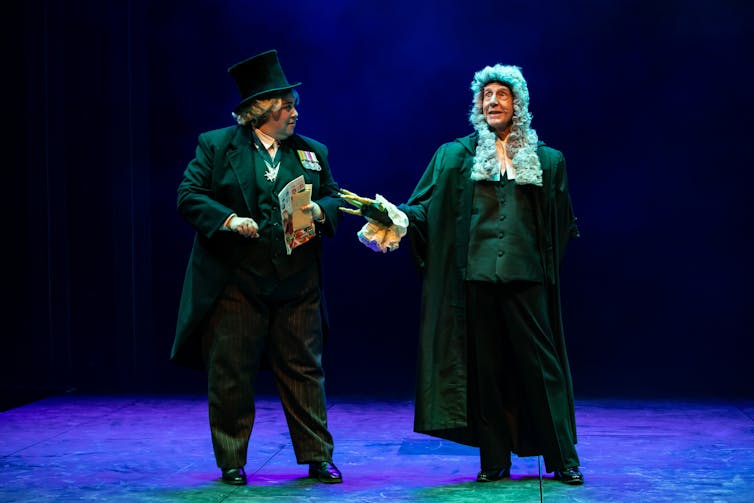 Andrew Cutcliffe's Malcolm Fraser is stiletto-sharp and a little bit kinky. His Private School Boys is a bump-and-grind showstopper that recalls Alexander Downer's Freaky from Casey Benetto's 2005 musical Keating!
The song is reprised later by Lady Anne Kerr, whose purring refrain that "you're not a match for private school girls" is a reminder that this is a story of class, mobility and social striving.
Sharp, funny and astute
The show's gender-inclusive casting draws our attention to the almost all-male world of politics in the 1970s and gives many of the female performers the opportunity to behave disgracefully (Georgie Bolton as Rex Connor is spectacularly, hilariously crude).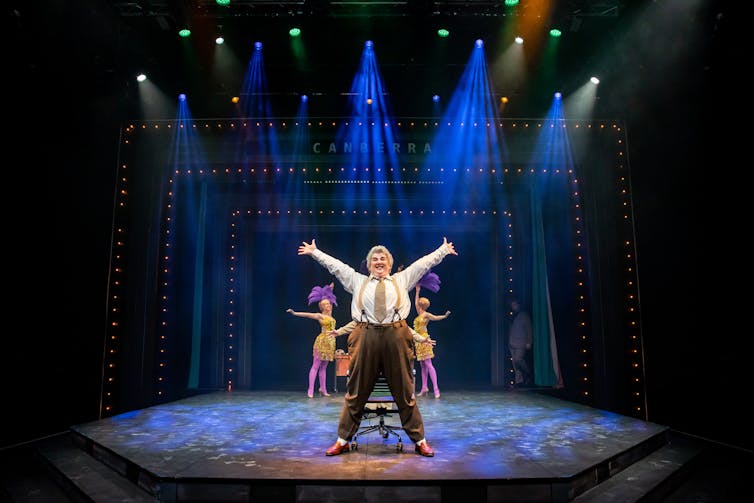 Margaret Whitlam (Brittanie Shipway) and Junie Morosi (Shannen Alyce Quan) are voices of reason and resolve. While both are terrific, their roles in the narrative constrain their range: Margaret's number Crash Through or Crash is an example of the ways the sincere songs don't have the power to hold an audience in the ways that the satirical numbers do. Stacey Thomsett has much more fun with the role of Lady Kerr, who she depicts as Lady Macbeth in a Carla Zampatti suit.
It's all great fun, witty and sharply observed. Yet perhaps the weakest part of the show is the ending. While we all know how this story ended, the creators didn't seem to know how to draw their story to a close.
But overall, The Dismissal is sharp, funny and astute. It's also a rare thing: an accomplished new Australian musical. I think Gough himself, with his love of Australian arts and culture, would have quite enjoyed it.
The Dismissal: An Extremely Serious Musical Comedy is at the Seymour Centre, Sydney, until October 21.
---


Read more:
Where are the new Australian musicals? Waiting in the wings


---
Denial of responsibility! My Droll is an automatic aggregator of Global media. In each content, the hyperlink to the primary source is specified. All trademarks belong to their rightful owners, and all materials to their authors. For any complaint, please reach us at – 

[email protected]

. We will take necessary action within 24 hours.